Groupon and other similar group coupon sites are currently a huge online trend. Consider that Groupon recently turned down a buyout offer from Google for $6 billion, prompting Google to start their own version, Google Offers. For the uninitiated, these sites offer huge discounts at local businesses if a certain number of buyers put down their money up front. If the set limit of buyers isn't met, the deal is off. The coupon merchant takes a percentage and the local business gets a large amount of cash before actually providing their product or service, as well as access to a large group of new, potentially loyal, customers.
Being a PhD student for the past few years has turned me into an excellent deal maven, so I love these sites. But a recent example here in Toronto has revealed the dark side of these coupons, especially as they become more popular. Aside from the privacy issues inherent in these sites (I suspect a large amount of revenue is actually coming from data mining and consumer research rather than the commissions on the coupons themselves), there is huge potential for abuse by business who want to game the system.
I've been watching this situation unfold for a few weeks now. I've sent it to a few media outlets and I'm disappointed no one has picked it up. These group coupons are becoming hugely popular, so people need to be aware of what they're getting into.
Here's the story: Starting in January, The Butchers – a local, family-owned business in Toronto – began using a number of the deal sites to offer huge discounts on their products (as much as $50 for $150 of meat). They used Dealgetters, Webpiggy (twice), DealByDay, DealFind and probably a few more that I haven't found yet. They sold a huge volume of coupons, more than they could manage to fulfill. Customers started complaining, about rude staff, poor quality products (or no products at all), reduced business hours, massively inflated prices for coupon holders (but no one else) and even a refusal to honour the terms of the coupons. Some are even calling it a scam. Despite this, the folks at the Butchers keep using whatever new group coupon site they can find to do another offer. A rep at Webpiggy confirmed that by March, they had likely sold $1.5 million worth of coupons – a seemingly impossible amount of product for a small business to honour. The Webpiggy rep also told me that the owners of the Butchers are opening a fish store across the street, which suggests that all this group couponing is not an effort to get new customers (they're doing a horrible job if that's their goal), rather it is fundraising effort for their new business venture at the expense of customers who are not having their side of the bargain held up.
Full disclosure here: I bought a few of these coupons from Webpiggy. After being yelled at or hung up on by staff multiple times, getting my order delivered 3 weeks after placing it, and finding dirt and human hair on my chicken, I had them all refunded. The staff at the Butchers blamed the amount of coupons they had sold for their troubles, which makes it even more suspicious that they kept offering more deals on more sites.
The issue now, which presents an interesting problem for an unregulated industry, is that a large number of customers are asking for refunds. I was lucky, getting a refund early. But others are posting saying Webpiggy is no longer offering refunds, and Dealgetters has just told unhappy customers to deal with it. From what I'm reading on the forums, Webpiggy and other sites were covering the refunds out of their own pockets, rather than getting it back from the Butchers.
There is no clarity on who is responsible here. The customer is essentially at the mercy of the coupon provider, and has no recourse with the business itself if they are unhappy with the product or service. The local business provides the service, but the money is prepaid to someone else. It presents a very difficult situation for customers in cases like this where businesses are essentially gaming the system for their own benefit. In any other situation, I'm pretty sure this would be illegal.
I recently had a conversation with Jon DiMauro (who runs Evoke Salon) about this story. They ran their own group coupon deal but they did it the right way. His insight, which I thought was brilliant, was that the first rule of social media for businesses should be actually being a good, ethical business that treats its customers well. If you've got that down, you're set in the social media space, and you don't have to worry about hoards of angry comments and how to manage them. Social media marketers seem to just think its all about adding me on twitter and sending me spammy tweets, but that's a whole other post.
Update (April 28):
The negative side of the Butchers' group deals is finally getting some mainstream press coverage:
Ellen Roseman – Why You Might be Wary of Internet Coupons (Toronto Star)
Jim Richard's Showgram (NewsTalk1010) (I did a radio interview for this one)
Also, a few very unhappy people have told me that the Butchers is now putting restrictions how much you can spend per visit on the $400 coupons (again, unfairly changing the terms of the contract they have with coupon holders). Last week it was $150 per visit, and on Monday it was $25, which considering their prices, doesn't get you very much.
Update (April 18):
I got a hold of Eddie at Acadian Beef. This is what he told me:
– He does not supply organic meat to the Butcher
– He instead sells 'naturally raised' which he told me means 'no antibiotics and they eat corn' BUT are still 'intensively farmed' (a nice way of saying factory farmed).
– He himself buys meat from suppliers and cannot say exactly where or which farms the meat comes from.
What does this mean? The Butchers advertises and charges the same high price you'd pay for 100% certified organic meat from a local farmer, but you're instead you're getting factory farmed meat from who knows where, just like you would at the grocery store, except the animal is fed corn and no antibiotics. This perhaps explains how the Butchers is able to offer so many coupons and still make money.
To me,  factory farmed is not 'naturally raised.' The Healthy Butcher would agree. Check out their definition:
"Locally-raised using traditional methods, high quality, yet more wallet-friendly. Raised without antibiotics or hormones; humane treatment from birth to death.  The pasture or feed are not Certified Organic, and therefore may have been sprayed; however, most of the farmers we deal with run their farm to strict biodynamic standards."
Update (April 17):
The Trueler has posted another update on Acadian Beef, one of the 'organic farms' that supplies The Butchers with the 100% certified organic meat advertised in Metro. A customer was actually frustrated enough to find out their address and drive out to check it out for himself (more investigative work than professional journalist Tim Kilazde did for his Globe & Mail piece, I might add!). And he took pictures: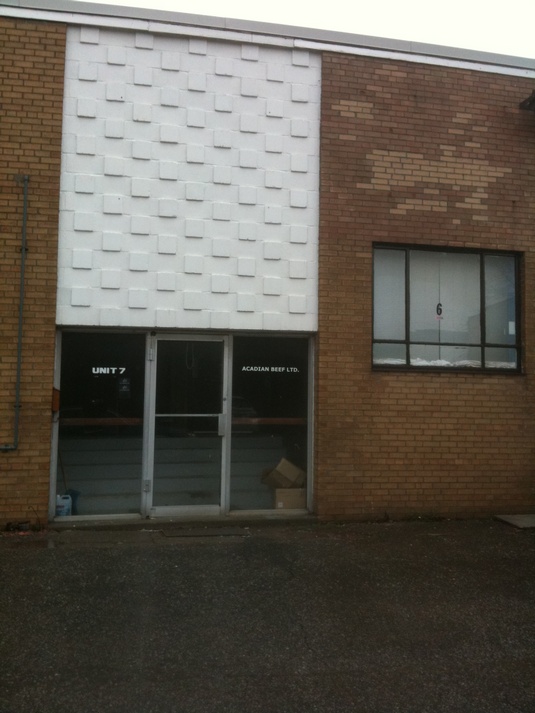 I called them and left a message asking if they carry organic products and where they get their products from. But clearly, they are not a farm. Instead, the Trueler reports that they are a 'Free-standing Meat Processor' which is not held up to the same standards as the rest of the industry.
Update (April 16):
A few things to update you on:
1.) Dealticker took down their Butchers deal after The Butchers stated they would refuse to honour their vouchers. They are "now considering all legal remedies available against the Butchers."
2.) The Globe and Mail ran a somewhat more balanced story that at least covered some of the customer concerns, but neglected to cover the bait and switch tactics that are being used by the Butchers. For example, how they keep reducing the store hours and now won't honour coupons on weekends, or have raised prices for coupon holders or even switching to lower quality suppliers than those advertised on deals such as the one on Webpiggy in February.
3.) I'm also trying to track who is giving refunds. DealGetters tells me they have actually been refunding customers (and have refunded 'thousands of dollars') but people have yet to receive their refund checks or have not even received a reply to their refund request. Please let me know via the comments if you are having problems. Be sure to mention which company you got your coupon from.
Update (April 15) #2:
Without directly referring to the Butchers (it's not hard to read between the lines) The Healthy Butcher has posted a detailed financial breakdown of why The Butchers coupon deal is financially unsustainable. Basically, if reputable stores like the Healthy Butcher who carry 100% certified organic meat offered the same deal, they'd quickly go under.
Update (April 15):
Dealticker is now offering yet another $100 for $400 deal, even though the Buytopia deal that ended yesterday was billed as the 'last' Butchers deal. In yet another bizarre turn, The Butchers have stated on their website that the Dealticker deal is 'invalid.' The Buytopia deal has now been extended to end past Dealticker's, in an effort to keep it as 'last' deal.
Update (April 13):
It is becoming even more unclear just where The Butchers are getting their supply of 'organic and naturally-raised meat.' Of the suppliers listed on one of the original Webpiggy deals, Beretta Farms and Blue Haven Farms both have confirmed they have not supplied the Butchers in 2-3 years. Marcia Stevers of Blue Haven told me she was very angry that her name was being used, without her knowledge or consent. Even more baffling, was when I called Cascadian Farms (the supplier listed on the Buytopia deal today for the Butcher's meat and poultry). Not only had they never heard of The Butchers, they don't actually produce meat of any kind, just fruits and jams and cereals. [This was a copy error – Buytopia tells me the farm name is actually Acadian Beef]
Update (April 11, 2011):
Trueler.com has a done some analysis of the meat sold by the Butchers, suggesting they products are not at all organic or natural.
Update (April 9, 2011): The Butchers are now offering yet another deal: $400 worth of organic meat for $100 on Webpiggy. Speculations continue as to how they can possibly be making any money selling organic meat at that price.  The Butchers' homepage has been updated with various notices regarding the coupons, including an indication that customer frustration seems to be reaching the boiling point:
The team at The Butchers have stated numerous times that you can NOT use more than one voucher at a time. Today we had numerous customers ask to use more than 1 voucher at a time and our staff politely said no. These customers then proceeded to cause scenes in the store. We are doing our best to accomodate all voucher holders, however we never expected to set a North American record with our voucher deals. Please be patient with us and our staff as it's unfair to yell and scream at the staff if we run low on stock. Due to this behavior we will not honor vouchers on weekends.
Also interesting is mysterious explanation for the large number of deals, which leaves me wondering why they'd make contracts with almost every local online coupon provider:
We have been asked by many people why we continue to do these voucher deals. We agreed to do a specific # of deals and signed contracts so we are under contractual obligation. Once these contracts have been fulfilled we will no longer take part in these vouchers deals.
Update (April 2, 2011): Toronto Star's coverage here. Clearly the journalist (Vanessa Lu) didn't read the multiple angry threads on Chowhound or RedFlagDeals – the piece is basically nice PR for the Butchers, showcasing their 'success.'
See also:
The Butchers on Yonge Street: Group-Buying Blowback
http://www.localseoguide.com/the-butchers-on-young-group-buying-blowback/
You Get What You Pay For – Why Deep Discount Coupons Aren't Sustainable in the Food Industry
http://www.thehealthybutcher.com/livetoeat/volume43/LiveToEat-Volume43-WhyDeepDiscountCouponsAreNotSustainableInTheFoodIndustry.html
Chicago the epicentre of group buy deals but Toronto close with dozens of sites
http://ca.news.yahoo.com/chicago-epicentre-group-buy-deals-toronto-close-dozens-20110209-114232-994.html
The Butchers Scam on WebPiggy, Dealfind.. Additives in meat
http://trueler.com/2011/04/09/the-butchers-scam-webpiggy-dealfind/
Where do The Butchers "Organic meats" come from?
http://trueler.com/2011/04/15/where-the-butchers-organic-meats-come-from/
Meat Cheat
http://www.restaurantstoronto.com/blog/thebutcher-deal-dealfind-webpiggy-scam
The Butchers Visit
http://www.foodwithlegs.com/?p=2976
The Butchers Deal
http://www.foodwithlegs.com/?p=2960
Ninety-nine bucks for $400 worth of organic meat. Seriously?
http://www.theglobeandmail.com/news/national/toronto/globe-to/ninety-nine-bucks-for-400-worth-of-organic-meat-seriously/article1987680/
Why You Might be Wary of Internet Coupons
http://www.moneyville.ca/article/979709–roseman-why-you-might-be-wary-of-internet-coupons
My Interview about the Butchers on Jim Richard's Showgram (NewsTalk1010)
http://media.newstalk1010.com/Podcasts/1755/JR_Apr_27th_Podcast.mp3